Subsequent 37 CV Analog Paraphonic Synthesis
Description
A Beastified, Limited-edition Sub 37
The Moog Subsequent 37 CV analog synth is a limited-edition re-design of a Sweetwater favorite: the Sub 37 Tribute Edition. Among the cool upgrades are four assignable CV outputs and two assignable Gate outputs that let you interface with Eurorack and Moog-format modular systems. There's also a new keybed with enhanced playability, a high-powered headphone amplifier for live monitoring, and analog signal path embellishments that significantly expand your sonic palette. From behemoth basses to lashing leads to posh pads, the Subsequent 37 CV is a serious performers' synthesizer with the hands-on control you need to inject serious expression into your live keyboard performances. It's a limited edition of only 2,000 units worldwide, so grab this amazing synth while you can!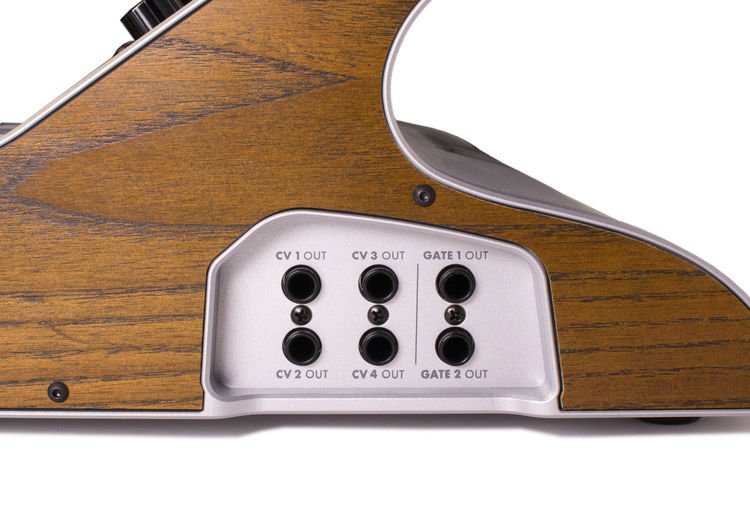 Enhanced analog signal path for greater sonic versatility
Along with control-voltage output flexibility, the Subsequent 37 CV also gives you an enhanced analog signal path for a broader palette of sounds. The re-tuned Multidrive circuit lets you crank the gain further for a more extreme range of dirt that can blast through a track more aggressively than the relatively polite growl and grit on tap in the Sub 37. The Subsequent 37 CV mixer also has double the headroom, and the Ladder Filter gain staging has been massaged to boost harmonic saturation and signal compression. All in, the Subsequent 37 CV is an irresistible analog synth value with versatile, fat and punchy Moog sound; CV connectivity; a lovely, custom aluminum-and-wood chassis handcrafted in Asheville, NC; and a sweet price tag. What's not to love?
Duo Mode — and what it can do for you
We have received quite a few questions at Sweetwater about the Sub 37's Duo Mode — an architecture shared by the Subsequent 37 CV. This is basically a two-note paraphonic mode; meaning each of the two oscillators can play a different note while sharing the same audio path. You can hold a bass drone note while playing a lead over it, play in fifths, and create other interesting musical effects you can't achieve with a monophonic synthesizer.
Designed for hands-on control
Fitted with 37 keys, 40 knobs, and 74 switches like the Sub 37 Tribute Edition, the Subsequent 37 CV is made to be manipulated. Dedicated controls make it easy to shape your sounds in real time while performing, and the extra-large filter cutoff knob is easy to find with your hands when your eyes are focused elsewhere. Set up an arpeggiated sequence, and you can easily spend hours tweaking knobs and creating new sounds. You'll never have to dive into menus or remember which button has the shift function you're trying to access.
Moog Subsequent 37 CV 37-key Analog Synthesizer Features:
All-analog Moog synthesizer with Mono and Duo modes
Re-tuned Multidrive circuit for a wider range and more dirt
Increased mixer headroom delivers even better sounds in Duo mode
6 assignable outputs (4 CV outs and 2 Gate outs) for modular connectivity
Upgraded 37-note, velocity- and aftertouch-enabled keybed with enhanced action
High-power headphone amp is great for cuing up sounds in loud venues
A limited edition of only 2,000 units worldwide
Create animated sounds with 2 versatile modulation buses
Syncable arpeggiator and step sequencer for even more creative potential
DAHDSR (Delay, Attack, Hold, Decay, Sustain, Release) looping envelopes with sync
Legendary Moog ladder filter can sound smooth or aggressive with resonance, MultiDrive, and selectable slope
Dedicated controls give you immediate access to every sound-shaping parameter
256 presets arranged in 16 banks of 16 patches
Handcrafted in Moog Music's Asheville, NC factory
Tech Specs
| | |
| --- | --- |
| Sound Engine Type(s) | Analog (2 x Oscillators, 1 x Sub Oscillator, 1 x Noise Generator) |
| Number of Keys | 37 |
| Type of Keys | Semi-weighted, Aftertouch |
| Other Controllers | Step Sequencer |
| Polyphony | Monophonic/2 Note Paraphonic |
| Number of Presets | 256 (16 Banks of 16) |
| Effects Types | Multidrive |
| Audio Inputs | 1 x 1/4" TS (audio in) |
| Audio Outputs | 1 x 1/4" TS (audio out), 1 x 1/4" TRS (headphones) |
| USB | 1 x Type B |
| MIDI I/O | In/Out/USB |
| Other I/O | Pitch CV, Filter CV, Volume CV, KB Gate, 4 x CV out, 2 x Gate out |
| Features | High powered headphone out |
| Power Supply | Standard IEC AC cable |
| Height | 6.75" |
| Width | 26.37" |
| Depth | 14.75" |
| Weight | 22 lbs. |